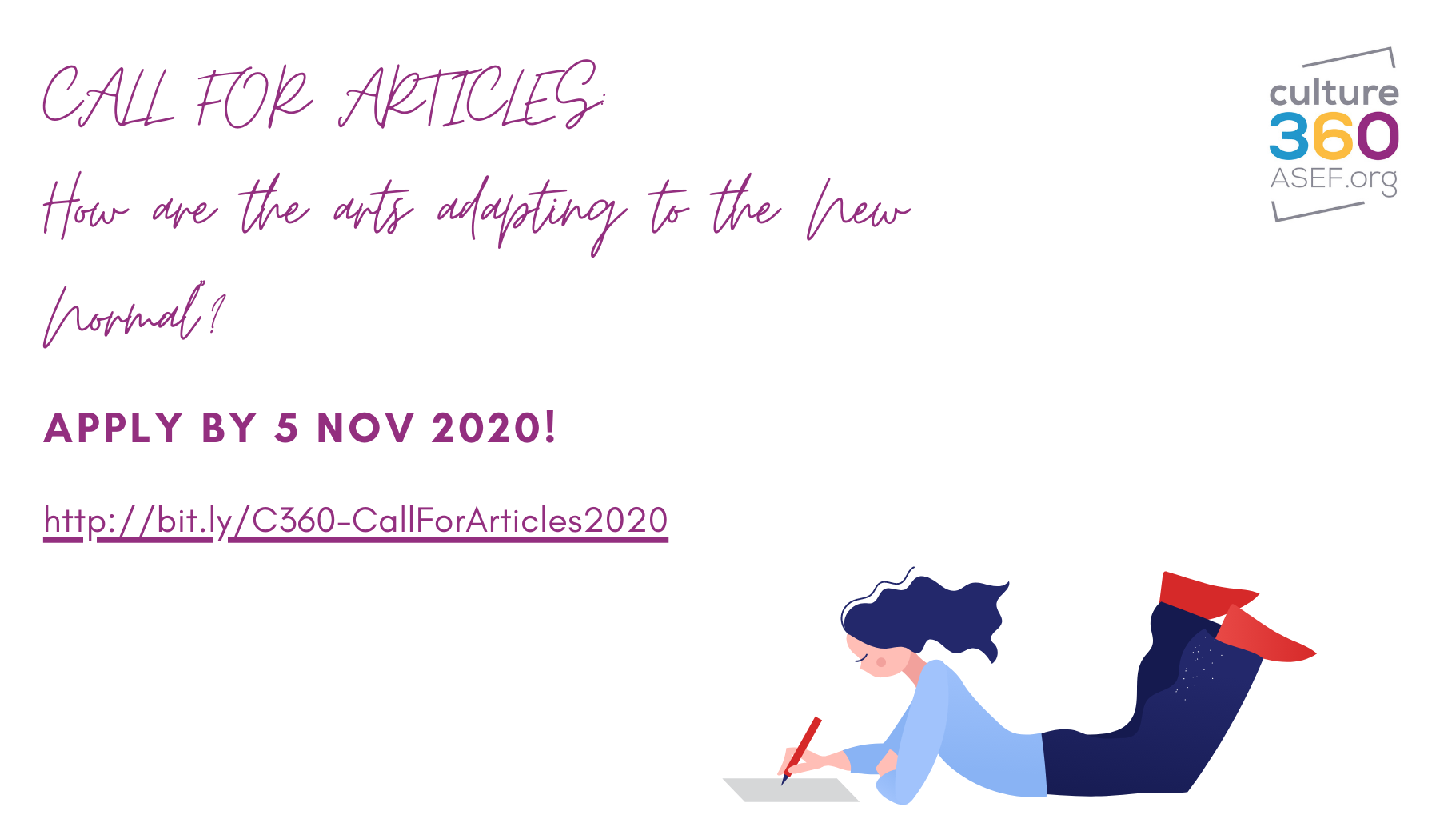 culture360.ASEF.org is currently looking for writers to produce features and interviews for their Magazine.  culture360.ASEF.org is an online platform offering up-to-date information on arts, culture & heritage from 51 countries in Asia & Europe. It is a website for artists, cultural professionals, policy makers and anyone interested in international cultural co-operation. 
What articles are they looking for? 
Well over 9 months into the global pandemic, we would like to know how Covid-19 has impacted the arts and culture sectors. They are particularly interested in commissioning case-study based articles that identify stories of resilience, adaptation, and success in the following 3 areas: 
• Artists' residencies: with limited mobility, artists residencies have been heavily impacted by the pandemic. How have residency spaces reacted to the situation and found alternative ways to provide collaborative spaces and platforms for learning and training?  
• Arts & disabilities: how have differently disabled artists and arts organisations been impacted by the pandemic and how have they adapted?  
• Funding in the arts in times of pandemic: with limited artists' mobility and opportunities to meet and collaborate, where are funders directing their support? Has there been a shift towards new areas of funding for the arts or simply a reduction of the same?  
For any of these themes, case studies could also be about how the adaptation/transformation worked and what were the learnings.
Who can apply? 
• Writers must be a national of an ASEM member country[list of member country]
• Previous experience in writing articles is necessary 
• Knowledge or involvement in the Asian and European arts scene is an advantage 
• The writer will work in virtual capacity and need not be based in Singapore 
How to apply? 
Please send the following documents: 
• CV 
• Cover letter 
• Writing samples (maximum 2) 
• A brief outline of the article(s) you intend to contribute (maximum 2) 
Note: Each commissioned article will be paid a fee of Singapore Dollars (SGD) 200.
Submit to Valentina RICCARDI, Senior Project Manager, Culture Department, ASEF: opencalls@culture360.org 
Deadline for applications: November 5, 2020. Only shortlisted candidates will be notified. 
For more information visit Asia-Europe Foundation > culture360 call for articles >